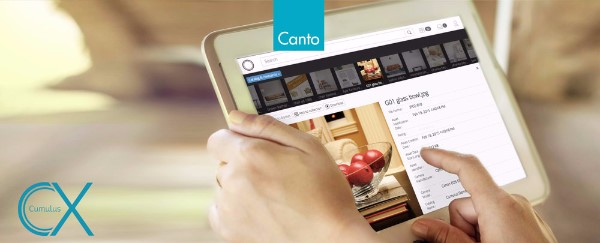 The neXt level of enterprise DAM software
Today Canto have announced the arrival of Cumulus X – ushering in the neXt generation of enterprise digital asset management for today's mobile and digital workplaces.
Cumulus X represents the 10th version of Cumulus and punctuates Canto's long-running legacy of leading digital asset management innovation.
Canto continue their commitment to provide a great user experience while helping teams increase productivity.
---
What's new in Cumulus X

Cumulus Portals
An all-new, read-only / download-only portal built from the ground up with mobile-first users in mind for massive scale consumption of assets by thousands of simultaneous users.
---
New Cumulus iOS Mobile App
Enjoy smart, collaborative access to your digital content from your iPhone and iPad. The Cumulus mobile app has been rebuilt from the ground up, and it looks amazing on both iPad and iPhone. Search, comment, collaborate, markup, review, approve, upload and download content anytime, anywhere. And the best part is, it's now included with every Cumulus X install.
---
Best API ever
Faster data calls, higher concurrency usage support and much faster throughput for passing data to and from other systems into Cumulus.
The Cumulus X API addresses a major hurdle that has hindered DAM from becoming a critical component of marketing technology stacks. To leverage the full benefits of DAM, companies have been required to create custom integrations between their DAM solution and enterprise systems, such as content management systems (CMS), project management, marketing automation, ERP, ecommerce and publishing applications. The Cumulus X API solves the issue of time, cost and complexity for creating these integrations, while providing an unparalleled level of interoperability.
---

Cumulus Cloud
Cumulus offers a variety of storage and deployment options to meet any enterprise IT configuration requirement: Cloud DAM, On Premise DAM and Hybrid Cloud DAM.
Additional features now available in Cumulus X include:
On-the-fly image resizing, cropping and crop templates
Multi-page preview and zooming up to 4K resolution
Built-in SEO support, allowing for page tagging and more
Branding, theming mechanism allowing for easy UI customization
Designed for easy upgrades to future versions of Cumulus
Combine multiple catalogs into one central brand portal, built on HTML5 Bootstrap™ technology
HTML5 video player tag support
For further information, read the Canto "Introducing Cumulus X" blog and the What's New in Cumulus X web page or please Contact the Creative Folks team.