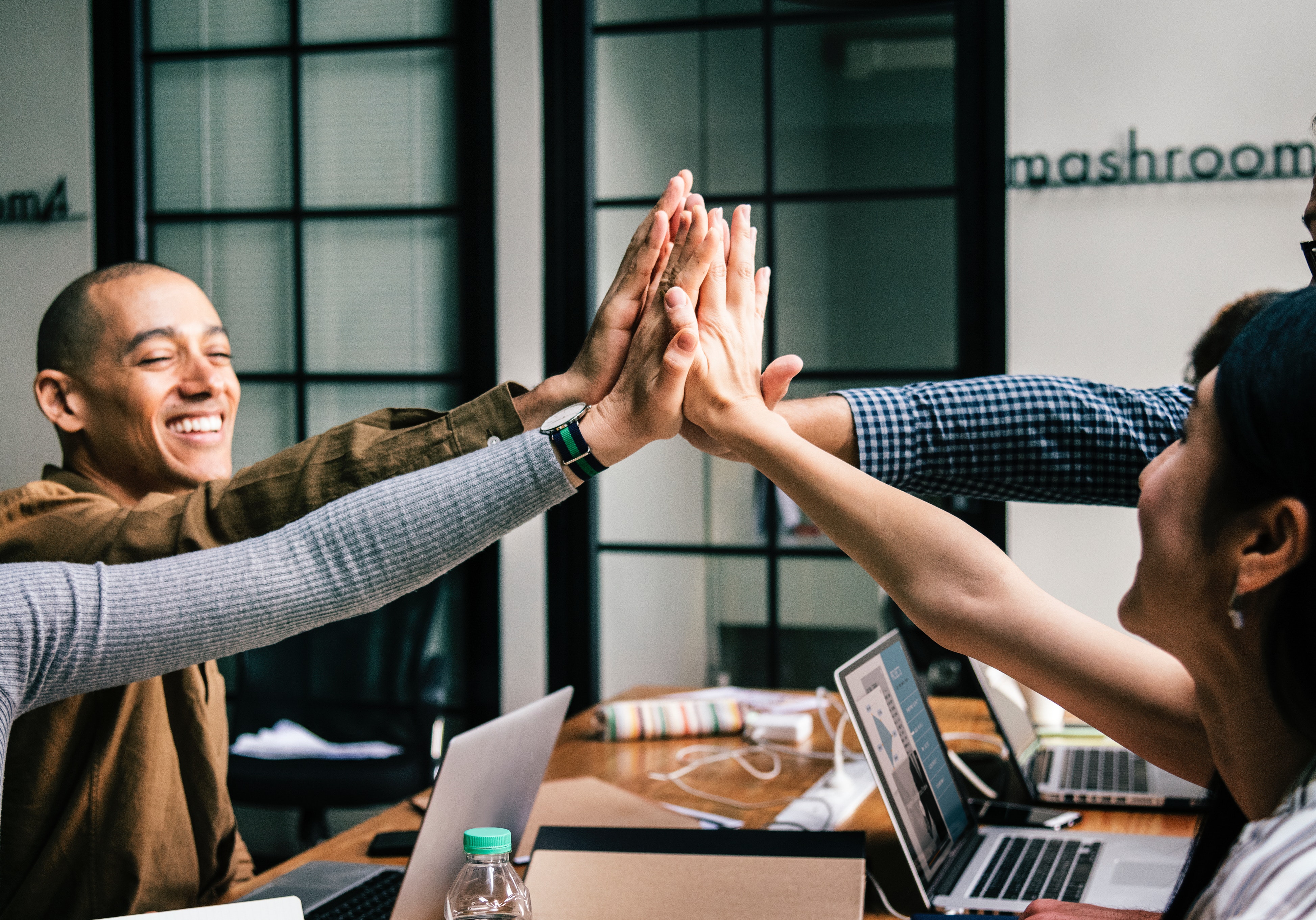 Your content process transformation project has been given the green light and it's time to get moving. The next step is to begin building momentum for change within the organisation. Read on for our 5-step guide to setting expectations and securing stakeholder buy-in.
There are many reasons why change projects often produce sub-optimal outcomes. In our experience the difference between a good content process transformation project and a bad one often comes down to one thing: ownership.

When staff don't feel like a project belongs to them, they're less likely to work hard for a positive outcome and more likely to throw up roadblocks. Two great ways to help the business feel in control of the change is to: a) involve them from day one; and b) convince them to buy in to the project vision.
Better yet, if you can convert mere content stakeholders into passionate advocates for process transformation, your chances of success increase markedly.
In this post we take you through the 5 steps you need to take in order to secure organisational buy-in and set your project up for success:
Accurately identify all stakeholders.
Involve stakeholders as early as possible.
Share a clear and honest vision.
Communicate strategically.
Invite and respond to feedback.


1. Accurately identify all stakeholders
As simple and obvious as this sounds, correctly identifying and including all stakeholders is something that projects often get wrong.
And you really can't afford to.
If you launch a project that has a material impact on a person or department's work, and you fail to consult that person or department, you are, at best, inviting a whole lot of bad press. At worst, you're introducing change that may have significant negative impact on the business.
To ensure all impacted parties are included within the stakeholder group, make sure you do the following:
Understand the full scope of the proposed change.

Consider the full organisational impact by meeting with all departments and mapping all of the workflows. If you read our post "

An eye on the future: preparing for content process transformation

" you may have already done this.

Compile a list of all stakeholders.

Then group them into direct (active participants in the workflow), indirect (passive recipients) and external stakeholder categories. This will help you prioritise and shape your communications.

Identify the key stakeholders. The key stakeholders are those most impacted by the changes, and those stakeholders for whom the changes pose the greatest risk. If the project requires a steering committee, ensure representatives from all key stakeholder groups are on it.

2. Involve stakeholders as early as possible
Once you are certain of your stakeholder group you should begin to include them in the project as soon as you can.
If you've followed the recommendations in "An eye on the future: preparing for content process transformation" it's likely that you've previously consulted heavily with those stakeholders that are now in your key stakeholder group. Now that the project has been greenlit you should consider officially notifying them and, if appropriate, begin formalising the steering committee.
All direct internal stakeholders should be formally informed of the project immediately, with high-level deliverables and expectations of their involvement – information sessions, proof of concept testing, training – communicated in writing. Indirect stakeholders should also be informed immediately but the communication need not be as detailed (see step 4 for more on this).


3. Share a clear and honest vision
A project is made up of various phases and components, but it should have an overarching vision; a narrative or story you can tell the business which at a very minimum explains what is happening and why (the who, when, where and how usually comes later).
Your project vision should be:
Something you can capture in one simple sentence.

For example, "Project XYZ will transform how we create and manage content, creating new commercial opportunities and setting a platform for our marketing future."

As specific as possible.

The more direct and precise you can be the easier it is for people to imagine. Specificity creates purpose.

Honest.

You're much better to understate and downplay than overstate or embellish. Overachievement will be a nice surprise; underachievement will be considered a failure.

Free of "weasel words".

Avoid managerial speak or disingenuous euphemisms. A word like "efficiencies" might play well in the boardroom but on the shop floor it means "job losses" and "cost-cutting".

Communicated to all levels of the business. Emails, information sessions, posters on the back of toilet doors – you want people to be reminded as much as possible of what is coming and why.


4. Communicate strategically
Communicating a vision is vital, but you need to back it up with the detail that explains the who, when, where and how. A vision without underlying substance is empty posturing.
And while openness and honesty are excellent rules of thumb for project communication, telling all stakeholders everything all the time is a surefire way to sow confusion and bore the heck out of everyone.
Here are five things to consider in your project communications:
Tailor your communications to the stakeholder.

Not all stakeholder groups are created equal so be sure to communicate at the right level. For example, while a department head is interested in how much total production time will be reduced, a junior designer is more likely to want to know the best set of keyboard shortcuts for the new application.

Be aware that change is not applied equally.

Just because the project will deliver business-wide benefit doesn't mean that everyone's jobs will necessarily be better as a result. Some staff may end up having more work to do, or find that their role has changed in a way they don't like. Consider this before over-enthusiastically extolling your project's virtues.

Be SMART.

As much as possible, all project communications should follow the "SMART" criteria i.e. they should deliver messaging that is specific, measurable, achievable, relevant, and time-bound.

Communicate in the language of the organisation or stakeholder group.

We're referring here to the cultural and aesthetic language, not whether they speak German or Spanish (although that's also important, obviously). How you effectively communicate to a group of 20-something fashion bloggers, for example, would differ in style and tone to how you'd shape your communications to a senior tech sales team.

Carefully consider the communication format. Email, Slack, the company blog, social media, posters, information sessions, prerecorded videos… Chances are you'll need to use a combination of these, but the more personal and professionally executed, the better the message will be received.


5. Invite and respond to feedback

Communication is a two-way street, so you should always welcome feedback from all stakeholders. Here are five suggestions for encouraging and handling feedback:
Set up regular face-to-face feedback sessions.

Sitting in a room with your stakeholders and asking them for their critique is daunting, but it's a fantastic way to foster project ownership and create a sense of solidarity. It also provides great on-the-ground intelligence you can use to make project adjustments. And remember: if a problem is raised or a question asked, be sure to respond to that specific matter in good time, or risk losing their trust.

Use online surveys.

Sometimes people aren't comfortable talking in an open forum. Online surveys provide anonymity and they also allow you to collect quantitative statistical data for the steering committee and project sponsors.

Feedback can come formally or informally.

Keep your ear to the ground. No matter how much you encourage people to be honest, some will prefer to talk among themselves rather than speak out publicly.

Conduct a post-implementation review.

Ticking all the boxes at the end of of the project is almost as important as doing the groundwork at the start. A post-implementation review (PIR) is a great way to measure the success of your project and bed in the changes. It's also a good launching pad for continuous improvement.

Don't lie.

If you are asked a question and you are unsure of the answer, don't make it up. Simply say it's a good question and that you'll come back with a response.
And don't forget: negative feedback should never be interpreted as "bad" for the project. You should see it as an opportunity to make changes for a better overall outcome.


Conclusion
Getting project buy-in starts with first accurately identifying all stakeholders. Once you've done this you should begin to involve them in the project as soon as possible, imparting a clear and precise vision of what the project will deliver to the business and why it's important.
Be honest and open at all times, but also be strategic about how you communicate and in what form. Welcome feedback and encourage dissent, remembering to always respond to questions in a timely manner.
Follow these guidelines, and you'll create a shared sense of ownership and purpose, fostering an environment in which momentum for change flourishes.
Continue to read this series here: Nail your content process needs before choosing the tech